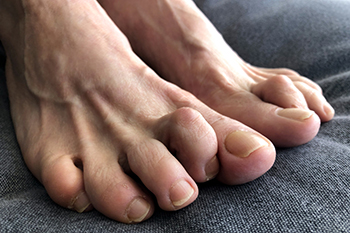 Early intervention in managing painful hammertoes can prevent the need for surgery. However, for some individuals, surgery may become a viable option. It is important to address underlying factors such as rheumatoid arthritis prior to considering surgery. A number of surgical options are available, depending on the severity or advancement of the hammertoe. Tendon transfer, suitable for flexible hammertoes, involves repositioning tendons to improve alignment and appearance. Joint resection is beneficial for fixed hammertoes. This procedure consists of adjusting ligaments, tendons, and bone portions. Fusion is generally reserved for severe fixed hammertoes that may require this approach. Joint portions are removed to stimulate bone growth and straighten the toe. Toe removal is employed only in rare cases of extreme pain, although it comes with significant considerations. Surgery is often performed as an outpatient and can involve local anesthesia. Strengthening exercises and wearing proper footwear can help to aid in recovery. For guidance on managing a hammertoe, it is suggested that you consult with a podiatrist for treatment options.
Hammertoe
Hammertoes can be a painful condition to live with. For more information, contact one of our podiatrists from Foot Doctors of Utica. Our doctors will answer any of your foot- and ankle-related questions.
Hammertoe is a foot deformity that affects the joints of the second, third, fourth, or fifth toes of your feet. It is a painful foot condition in which these toes curl and arch up, which can often lead to pain when wearing footwear.
Symptoms
Pain in the affected toes
Development of corns or calluses due to friction
Inflammation
Redness
Contracture of the toes
Causes
Genetics – People who are genetically predisposed to hammertoe are often more susceptible
Arthritis – Because arthritis affects the joints in your toes, further deformities stemming from arthritis can occur
Trauma – Direct trauma to the toes could potentially lead to hammertoe
Ill-fitting shoes – Undue pressure on the front of the toes from ill-fitting shoes can potentially lead to the development of hammertoe
Treatment
Orthotics – Custom made inserts can be used to help relieve pressure placed on the toes and therefore relieve some of the pain associated with it
Medications – Oral medications such as anti-inflammatories or NSAIDs could be used to treat the pain and inflammation hammertoes causes. Injections of corticosteroids are also sometimes used
Surgery – In more severe cases where the hammertoes have become more rigid, foot surgery is a potential option
If you have any questions please contact our offices located in Herkimer, and New Hartford, NY . We offer the newest diagnostic and treatment technologies for all your foot and ankle needs.
Read more about What Are Hammertoes?